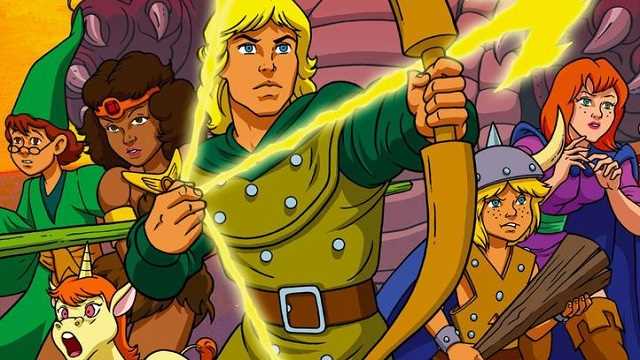 THE WILD BEYOND THE WITCHLIGHT to see '80s cartoon characters return
While some people are still interested in board games, role-playing games such as War hammer and Dungeons & Dragons are more popular than ever. In fact, the latter is increasingly well known (in part thanks to the popularity of Stranger things) that a live action series is in development.
Scheduled for release in 2022 or 2023, a project led by Chris Pine (Spider-Man: Into the Spider-Verse, Wonder Woman) the feature is heading to theaters, and with talent like Pine and Michelle Rodriguez (Fast furious) involved it is safe to say that Dungeons & Dragons will soon meet an even wider audience and fan base.
However, for die-hard fans of the game, this is far from the first screen adaptation for the tabletop game. In fact, three seasons of an animated film Dungeons & Dragons series aired four decades ago, from 1983 to 1985. At the time, the synopsis was as simple as "A group of children are thrown into a fantasy world where they must search for a way home, armed with magical weapons an evil tyrant wants."
Those who have listened to the series more than likely have an affinity for the role-playing game itself, and these fans will soon be revisiting some of the popular characters that have faded with the series decades in the past. Dungeons & Dragons: Nature Beyond Witches' Light is slated for release in September, and the following statement has been made regarding the crossover with the '80s cartoon.
"I'll just say that there are a lot of nods to the past in this adventure, including nods to the D&D cartoon. You will meet one, maybe two characters that appeared in this original series. " – Chis Perkins, lead story designer
Are you excited to see these characters again, or for young viewers, are you interested in meeting them for the first time? We've included the show's first episode on Youtube below so that anyone interested can check it out. Whatever your thoughts are, be sure to share them in the usual place!
The children meet Merlin the Magician and learn how he saved the city of Helix from a marauding herd of dragons. Presto decides to become Merlin's apprentice, but in his attempt to find a spell that could send himself and his friends back home, he unleashes the dragons on Helix once again.
Dungeons & Dragons: Nature Beyond Witches' Light will be released on September 21, 2021.