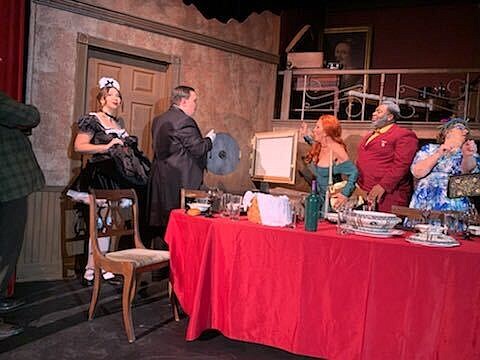 The 'Clue' team takes up the challenges of an intensive scenography
The South Arkansas Arts Center is a hub of activity with production of the fall piece "Clue: Onstage" on track.
The Murder Mystery, which opened last weekend and will run until Sunday, is a comedy thriller based on the Parker Brothers board game of the same name. Audiences of all ages will be thrilled and delighted by the production's scenography, created by a talented team of creative volunteers working almost day and night.
Directors Rhett and Hannah Faith Davis had a big order to fill when designing the environment for "Clue: Onstage," which takes place inside Boddy Manor on a single rainy night. The set, which fills the stage from floor to ceiling, represents the rambling and mysterious mansion, complete with secret passages, hidden safes, and murderous objects hidden in plain sight.
"The first thing you realize when the curtains open is how gargantuan the decor is," said Rhett Davis. "In the board game, there are nine potential rooms that players can travel to. On stage, we travel through seven of these rooms as the actors explore Boddy Manor trying to find clues as to the killer's identity. "
But just like the story of "Clue: On Stage", nothing is quite as it seems. Secrets are hidden behind every painting and around every corner, creating the perfect environment for a killer to find their next victim. Special effects, sound effects from a gunshot to a falling chandelier, are the crowning glory of the show, immersing the cast and audience in the surroundings of Boddy Manor.
Director Darrin Riley, who also appears on stage as Professor Plum, said: "There's a good chance actors run around a lot. It's like working on a three-dimensional game board. move from room to room, from level to level, as he ran away from a killer! "
Many hands have spent countless hours behind the scenes, giving of their time and talents to bring this show to life. Longtime SAAC volunteers Bob Stephenson and April Hoover, both master carpenters, built the set from scratch. Tasked with creating seven different pieces on two floors, they approached it with their usual talent and enthusiasm, while many volunteers joined the team, picking up brushes, gluing and stapling until the early hours of the morning. .
Additionally, Kaila Emery brought in her costume designer talents, Steven Vick created the unique lighting design, and Felice Lamoreux took over the role of real estate supervisor.
Right out of the year schedule, the co-directors knew they had to be involved in "Clue: On Stage" to some extent. As board game enthusiasts, the Davis family love Clue because it is easy to teach and inviting to everyone.
The game was created in the 1940s by Anthony and Elva Pratt as a way to kill time while waiting in bomb shelters during WWII. The board game has been adapted and modified over the years, including hundreds of themed games, ranging from "The Simpsons" to "Harry Potter" to "Brooklyn Nine-Nine".
Despite all of these variations, the game has never lost its simple central task: finding out who did it, where, and with what weapon.
In 1985, "Clue" was featured in a theatrical release starring such notable actors as Tim Curry, Madeline Kahn, and Christopher Lloyd, to name a few. The film developed the story of the six characters with unique bonds and the blackmailer who invites them to a dinner with murder on the menu. It's become a cult classic, full of quoted dialogues and memorable moments that go straight to stage production.
Curtain time is 7:30 p.m. tonight and 2:30 p.m. on October 31. Wear a costume or show up in your favorite "Clue" character color tonight.
The cost of tickets is $ 5 for students, $ 10 for SAAC members and $ 20 for the general public.
Visit saac-arts.org or call the SAAC office at 870-862-5474 to reserve seats for all screenings.
SAAC is located at 110 E. 5th St. in El Dorado.
The South Arkansas Arts Center production set of "Clue: On Stage" includes seven rooms and multiple levels to give audiences the impression of the scale of Boddy Manor. The show continues tonight and tomorrow. (Contributed)
The South Arkansas Arts Center production set of "Clue: On Stage" includes seven rooms and multiple levels to give audiences the impression of the scale of Boddy Manor. The show continues tonight and tomorrow. (Contributed)
The South Arkansas Arts Center production set of "Clue: On Stage" includes seven rooms and multiple levels to give audiences the impression of the scale of Boddy Manor. The show continues tonight and tomorrow. (Contributed)