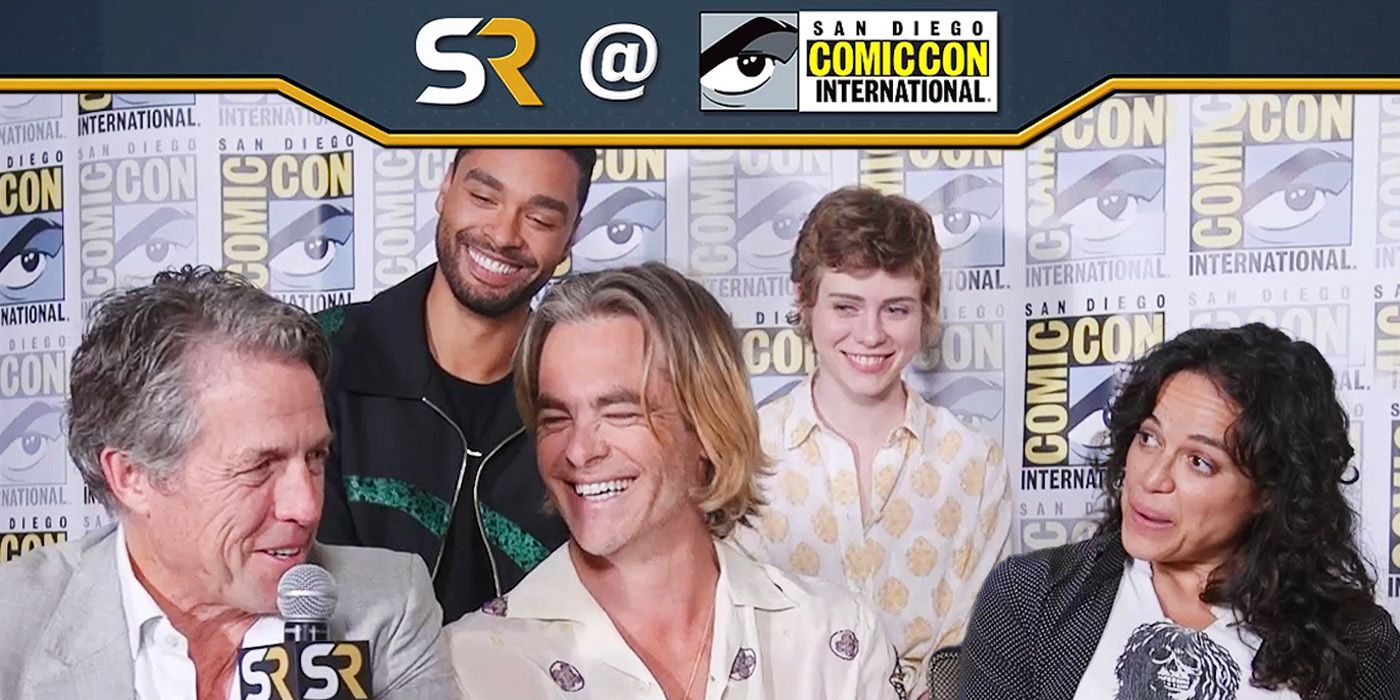 SDCC 2022 Interview: Dungeons & Dragons Cast
The cast of Dungeons & Dragons: Honor Among Thieves drops by to share their Comic-Con experience and reveal who's the best at D&D.
Dungeons & Dragons: Honor Thieves slated to be one of next year's biggest adventure movies when it premieres on March 23rd. The new Paramount movie is inspired by the beloved D&D role-playing game, which has been around for nearly 50 years. Led by avowed D&D enthusiasts John Francis Daley and Jonathan Goldstein (who directed the 2018 films game night together), the film boasts a stellar cast and a campaign full of laughs.
Forget the Lawful Good characters you may have known from tabletop games, because Dungeons & Dragons: Honor Thieves sees Chris Pine playing a bard who leads a group of professional heist experts. They recently stole the wrong artifact from the wrong person and are now looking to get out of their current predicament. The set includes Michelle Rodriguez, Rege-Jean Page, Justice Smith, Sophia Lillis and Hugh Grant
Related: What D&D Class Is Each Main Character In Honor Of Rogues?
At San Diego Comic-Con, Screen Rant spoke to the cast about their panel experience and the enthusiastic response from the waiting audience. The cast also shared what made this iteration of Dungeons & Dragons so special, who among them had spent the most hours playing the game, and which items from the set they themselves looted. Watch the video above, check out the selected quotes below, and check back soon for the full transcript!
It looks like you all had a great time making this movie. Is it correct? What do you remember now that you look back on the experience?
Michelle Rodriguez: It's the toughest crowd ever. For something like that, who has lived among the Comic-Con fan population for over 40 years? You talk about a long history with Dungeons & Dragons; it's not just the film being made now.

The fact that [we] working with two guys like Jonathan and John, who respect this world so much and love it so much? When I read the script, I was like, "Wait a minute, you really care about what you're doing. It's the attention to detail here." I just feel like there was a lot of pressure coming here, and I kind of put all my chips in John, Jonathan and Chris [McKay]to believe in the project and in the love that surrounded it.

But coming here is a whole different freak, because there's no greater criticism than coming to Comic-Con with something like the Dungeons & Dragons IP. If you're coming with Dungeons & Dragons to Comic-Con, you better be ready to be shot down or up.

I'm glad we survived. It was cool. They accepted us; no one has criticized us yet. So I feel safe for now.
What was the biggest question you asked yourself when you were told, "We're making a D&D movie?" What was the most important thing for you at the start of the film?
Hugh Grant: I didn't expect to like the script when it was sent to me. But I really did – which is strange, because I'm a man who hates everything. And that really made me laugh. Maybe I'm losing my judgment, but I thought it was hilarious.

And from what little I've seen in the film, all of that humor seems to have survived production – which isn't always the case. But this whole group is brilliant and very good at throwing in dry humor, and I feel quietly positive. It's very different to me.
In terms of the heist theme, what's the best thing you've ever robbed on set?
Sophia Lillis: In the first draft of my character, I had teeth – like canines in a way. It didn't pass. But in the mail, a few weeks after I finished filming, I went home and they sent me my teeth. Which I did not touch. I don't know what to do with it.

Michelle Rodriguez: Did they have traces of ash? I'm just impressed that tieflings eat ash.
Dungeons & Dragons: Honor Thieves Synopsis
A charming thief and a band of unlikely adventurers embark on an epic quest to retrieve a lost relic, but things go dangerously wrong when they run into the wrong people.
Check back soon for a full transcript of our Dungeons & Dragons interview, and find our previous interviews with Chris Pine for Wonder Woman 1984Régé-Jean Page for The gray manand Sophia Lillis for Uncle Frank.
Next: 10 Best Dungeons & Dragons: Honor Among Thieves Trailer Easter Eggs
Dungeons & Dragons: Honor Among Thieves (2023)Release Date: Sep 08, 2023
Thor: Love & Thunder Reaches Box Office Milestone Despite Mixed Reviews
About the Author