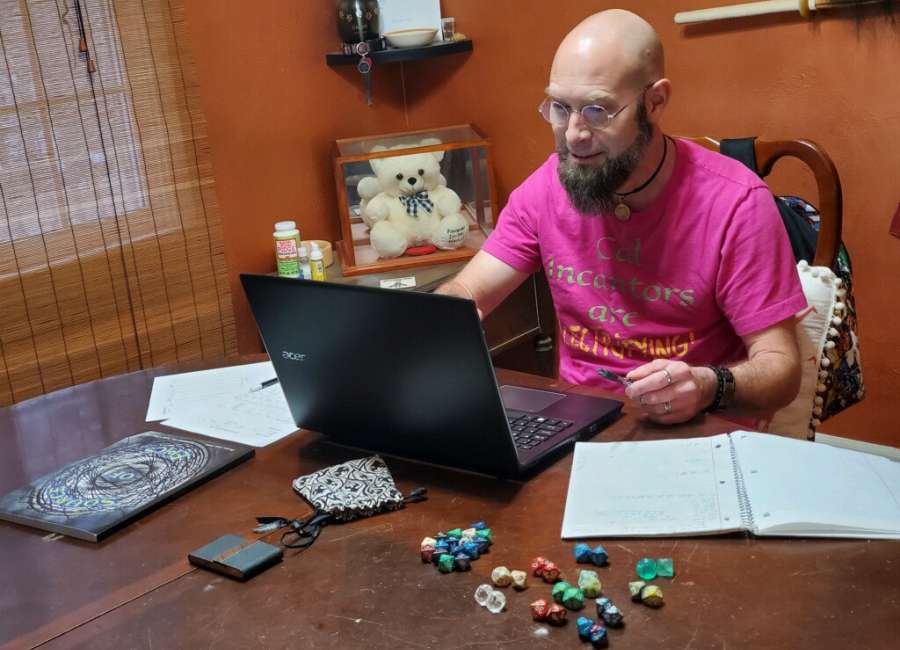 Newnan Man Designs Tabletop Role Playing Game
James Weeks loves games.
He made them for his students, he made them for class assignments, and now he made one for everyone.
After three decades of work, James Weeks, a resident of Newnan, has completed the design of a tabletop role-playing game titled "Source of Epics".
"I've always loved games since I was a kid," he said. "I have a wild imagination, and when I'm bored, I just make up games. When I started teaching, I loved making up games for kids. Throughout college, most of my homework, I made it a kind of game."
"Source of Epics" is comparable to "Dungeons & Dragons". Players create characters and embark on adventures. But James Weeks designed his game to be a little different. Instead of using dice to determine the success of player decisions, James Weeks designed his game to use percentiles.
James Weeks started designing the game with a friend when he was 19 years old.
The pair noticed that there were tabletop games built around different types of dice, but there wasn't one designed with the 12-sided dice in mind.
But, James Weeks said the two went off the rails fleshing out their game world, but when they were done they realized they had never made dice part of the rules.
"We started inventing abilities and spells and everything the game would need instead of how it would work with a 12-sided die," he said. "We tried all night and all day to fit the 12-sided die into it and we just couldn't get the numbers to work…and then we thought, 'What about the percentile? I loved it, so we took everything we had and just started writing a new game."
Since that first brainstorming session, James Weeks has worked with the game from time to time removing systems, reworking rules, and adding elements.
Originally it had a magic system that allowed players to create their own spells by stringing together words in a language invented for the game, but in testing players were able to break parts of the world as the spells were too powerful.
To make the game playable, James Weeks said he chose to create a list of spells for players to use.
"Somehow one of my best friends destroyed the game," he said. "So finally, even though I hate confining people, I said I'm just going to do the spells myself."
James Weeks said he's used a variety of people to test his game over the years. Some of the testers were experienced gamers, others had only been playing tabletop games for about a year, such as one tester, his wife, Rebecca Weeks, who had little gaming experience.
His lack of knowledge of the game's systems made him a valuable sounding board.
"As someone who doesn't have as much gaming experience as him, I tend to ask a lot more questions than someone he may have played with before or whose brains came from," said said Rebecca Weeks. "So sometimes I ask questions that he's like, 'Oh, I didn't think of that,' because my brain doesn't work like a gamer's."
"Source of Epics" had a few setbacks during development, said James Weeks.
Time constraints due to his job as a teacher limited James Weeks on when he could work on the game.
The game was almost finished several years ago, said James Weeks, but the hard drives he had saved his material on crashed and he lost everything.
His only methods of recovery were the few printed materials and replicating the memory game as much as possible.
"As a teacher, as an educator, you have little free time, and I used all the free time I had to write, and it would have been over seven years ago, but I had two hard drives which were both destroyed," he said. noted. "They were burned, and I literally had to go back to what I had printed and what was in my memory."
The development of the game has also experienced delays due to advancements in technology over the decades.
James Weeks said he started writing the game with a typewriter that had a ½-inch by 2-inch screen and the files were saved on floppy disk drives.
As technology evolved, Rebecca Weeks said her husband struggled because file types also changed and some formats weren't compatible with newer computers.
"It all started in a notebook, a spiral notebook, where he drew the symbols of the magical language he had created," she said. "I watched his frustration and tried to translate that from hand drawn notes and computers that are not compatible with today's computers and tried to figure out how to format that and adapt to technology."
"There were a lot of issues because I went through a lot of operating systems that changed tab settings, format and layout," said James Weeks.
Despite the setbacks, time constraints and computer errors, James Weeks said he persisted with this project because making a game is something he always wanted to do.
"It was just a dream," he said.