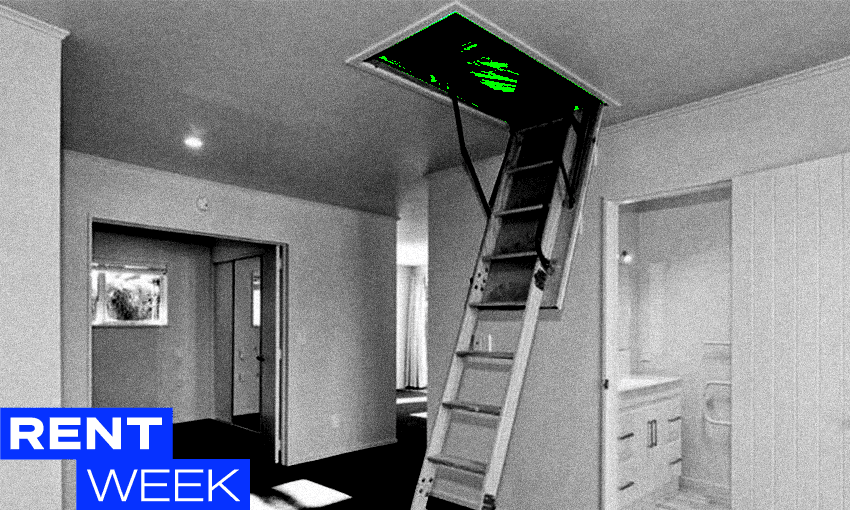 New Zealand's Cursed Rentals: Stairway to Hell Edition
Take the stairs – if you dare.
Auckland designer Richard Parry has listed the curiosities of the local rental market in a long-running segment on his Instagram page called Crap Rentals. As part of Rent Week, Parry gave The Spinoff the keys to his illustrious archive of shocking, disturbing, hilarious and ridiculous rental properties advertised across Aotearoa.
Today we take a look at the 10 most menacing stairwells on the market.
10) Sausage Party
Why choose between the large sausage pattern and safety handrails when you can simply have both?
9) Homemade Horror Movie
I saw Hereditary, I know how it ends.
8) A New Perspective
Imagine a world where those stairs are actually the start of a fun slide and the heater is actually just a little guy waiting for the green light to slide down? Look at her little feet waiting patiently!
7) Spiral: From the Book of Saw
I want to play a little game: what… is… this… room?
6) Do you prefer?
Put your head on that giant pillar every time you go up and down the stairs, or remove the pillar and have the whole roof collapse on top of you? Ah, making decisions.
5) The forbidden corner
No one ever goes in and no one ever goes out.
4) No barrier
No problem!
3) Green room
If ever someone invites you into "the green room" via a retractable ladder, you turn around and run. Still.
2) The hybrid
Some days you are the stairs, other days you are the post. But every day you're those janky handrails that just give it a crack.
1) squid game berth
Sweet dreams xxx