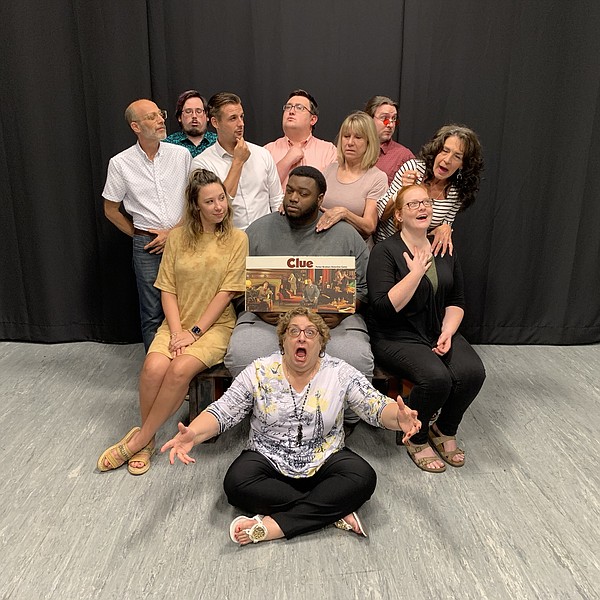 New faces and SAAC veterans make up the cast of 'Clue'
Rhett and Hannah Faith Davis, co-directors of the South Arkansas Arts Center's upcoming "Clue: On Stage" production, have announced the cast of local actors who will play the roles made famous by the eponymous board game and film.
The main cast includes Hayden Nooner as Wadsworth; Bonnie Murray as Miss Scarlet; Steven Vick as Mr. Green; Elva Melillo as Mrs. White; Jacarllus Hill as Colonel Moutarde; Traci Stevenson as Mrs. Peacock; and Darrin Riley as Professor Plum.
The supporting cast is completed by Lainey Walthall as Yvette; Kenneth Burns as Mr. Boddy / Motorist / Police Chief; Jessica Raines as Cook / Telegram Singer / Scarlet Auxiliary / Emergency Cop; and Holland Ruff as Auxiliary Col. Mustard / The Unexpected Cop / Backup Cop.
"We have brought together a new group of very talented people for this show," said Rhett Davis. "We have actors with all levels of experience on the South Arkansas Arts Center stage. You will see familiar faces mixed with a largely new group take center stage. We had a fantastic group to audition and it really resulted in an incredible top-down cast. "
The classic board game comes to life in "Clue: On Stage". Six guests are invited to a dinner organized by an anonymous host. They are given pseudonyms: Colonel Mustard, Mrs. White, Mr. Green, Mrs. Peacock, Professor Plum and Miss Scarlet. Although discouraged from revealing personal information, it is soon discovered that they have all been victims of the same blackmailer, their very host of the evening. Each is presented with a weapon and an option: pay their double extortioner or kill the innocent butler. What follows is a crazy, burlesque night full of murders, mysteries and laughter as they seek to uncover the culprit among the criminals.
"Our leader, Hayden, will have his first experience on this stage and he is already leaving us right on target as Wadsworth," said Hannah Davis. "Our other six main characters are also all unique and hilarious. Each brings their own form of comedy to the stage. The supporting actors are also amazing, because they really shape and shape the setting that is both disturbing and comedic at the same time. amazing process so far, and I can't wait for everyone to see how phenomenal our cast is. Join us in October and see how far these characters will go when they're stuck in a corner! "
For the chance to meet this troop of frenzied characters, stop by the SAAC between 4 p.m. and 7 p.m. on Saturday, September 18 for Family Game Night. Participants can play one or two rounds of their favorite board game in the gallery, or try out a custom Kernel Mustard's Hotdog Cart dog in the parking lot, while having lots of fun with the "Clue" team.
Performances of "Clue: On Stage" are scheduled for October 22-24, 28 and 30-31.
For more information about the show, call the SAAC office at 870-862-5474 or visit saac-arts.org. SAAC is located at 110 E. 5th St. in El Dorado.