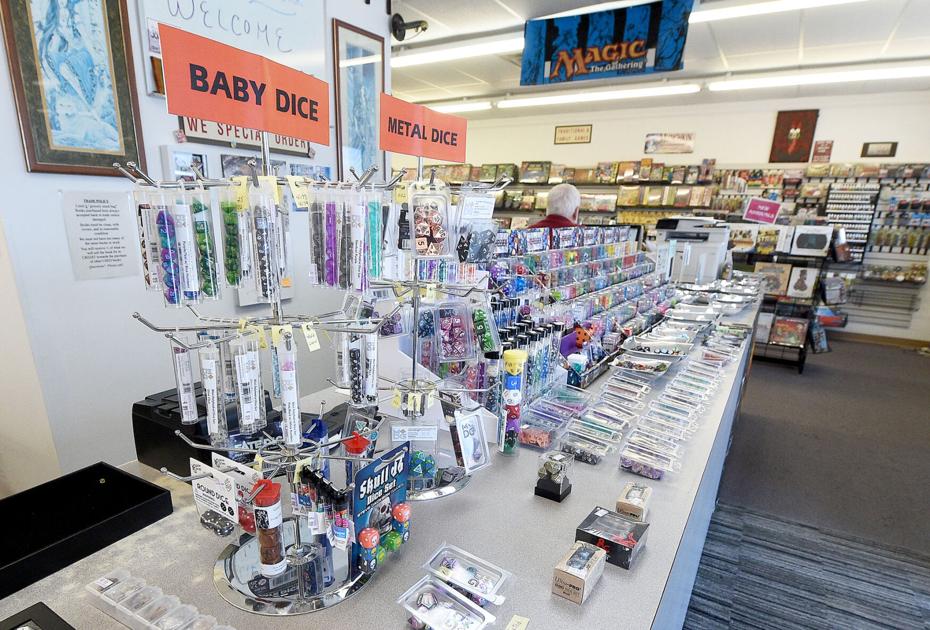 Local store sees sales of role-playing games and dice skyrocket during pandemic | Lifestyles
RAncient games of chance – and the unusual-looking dice that bring those games to life – have exploded in popularity in recent years, fueled in part by the ongoing COVID-19 pandemic and popular TV shows like " Stranger Things ".
During the lockdown, people were forced to stay home and gorge on movies and TV shows, read books or play games. Due to the formats for playing role-playing games online like Dungeons & Dragons via Zoom or Facebook Live, millions of people have adopted the games.
John and Susie Davidson, owners of Changing Hands Book Shoppe, 528 Virginia Ave. to Joplin.
What surprises them is the popularity of an accessory crucial to the overall success of the game: the dice. We are not talking about traditional six-sided dice here, but rather four, eight, 10, 12 or 20-sided dice.
"I am continually shocked by our sales (of dice)," said John Davidson. "We started tracking our dice as a (separate) category three years ago, and we were amazed at how much we sold."
Changing Hands had a year of record dice sales from 2018 to 2019, he said. Between 2020 and 2021, during the pandemic, they saw their sales increase by 47%. This year they are on track for another 30% increase in sales.
The store's dice collection has grown considerably since 2018. It now occupies most of the area of ​​the long counter facing the main entrance.
"You starve failure and reinforce success," said John Davidson. "We have (now) 300 different dice sets when we're fully stocked, not counting our loose dice. "
"The joy we see on people's faces when they come in and see the dice" is priceless, said Susie Davidson. "We were told we have more dice and available than any place other than Kansas City or St. Louis."
Good and bad luck
The store sells all kinds of dice sets – plastic, metal, stone, wood, in any color of the rainbow or in a swirling color combination. Some dice sets glow in the dark, while others contain unique "pieces". Some are hollow.
Susie Davidson keeps a black light nearby so she can shine it on certain sets of dice, exposing an all-new second color when rolled on a hard surface.
"I have fun showing which dice glow in the dark," she said.
Dice, when used in a role-playing or board game by players, give them luck – good and bad – and can change the outcome or outlook of a game on a single roll.
"I think it's that element of dice play that we love," said Joshua Carter, a teacher at Joplin High School who oversees the school's Eagle Gaming club. The club had 122 students enrolled for membership this semester; more than half of them were interested in playing D&D. About 50 students showed up earlier this week to play characters using dice.
"Most students want this social side of humanity, and (the game) gives that opportunity, whether it's playing a role-playing game like D&D or playing the many modern board games that we have. lay out for the club, "Carter said. "I think what is fueling this popularity is that students are looking for a social interaction that they have been missing for the past two years with the pandemic."
Some players buy sets of dice or individual dice, like the 20-sided one, for their games or just to collect them, Susie Davidson said.
"Everyone has to have their own set – it's bad luck to play with someone else's set," she said.
Some players will "remove" a D20 that does not roll well for them during a game and search for a new one as quickly as possible. Others will buy a new set of dice for each new player character they create, while many players still have a backup dice set, just in case.
Put simply, the dice are addictive, said avid D&D player Methechai Hunter McKee. "I think the reason D&D players crave more dice is because it's your lifeline to the game. Dice are one of the very few physical connections we have with our world," so that means we have to pull out our lucky dice. "
Former Webb City resident and player Ted Conn knows all about these unwritten role-playing rules. The 50-year-old has so many dice in his possession it would take him over an hour to count them all.
"My collection has grown over the years, but I rarely buy dice for the sake of buying dice. Like pennies, the dice seem to pile up, especially the six-sided ones, "he said.
Overall, "I believe that for gamers dice are a cool and fairly inexpensive way to collect and appease their need to develop their hobby without breaking the bank. "