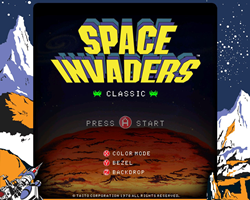 iiRcade is bringing the iconic arcade classic, SPACE INVADERS, to the Game Store on August 5th
We are very excited to bring SPACE INVADERS to iiRcade and would like to thank TAITO for making this possible

CHICAGO (PRWEB)
August 01, 2022
iRcade inc.a premium arcade console that allows gamers of all ages to play their favorite retro and modern games in true arcade style, is pleased to announce that SPACE INVADERS, officially licensed by TAITO, will be available in the iiRcade Game Store on Friday, August 5, 2022 for $7.99.
SPACE INVADERS hit arcades in 1978 and became an instant worldwide phenomenon from its debut. The objective is to defeat wave after wave of descending enemy invaders with a horizontally moving laser to earn as many points as possible.
"We know that many members of our community are patiently waiting for SPACE INVADERS to be released and we are happy to announce that it will launch this Friday in our Game Store," said Jong Shin, Founder and CEO of iiRcade. "We are very excited to bring SPACE INVADERS to iiRcade and would like to thank TAITO for making this possible."
SPACE INVADERS popularized a more interactive style of gameplay, with the Invaders responding to player-controlled movement of the cannon and was the first video game to popularize the concept of achieving a high score which could also be recorded on the machine.
The iiRcade version of SPACE INVADERS will include:

Three different visual modes: black and white, classic and color.

Custom bezel artwork

Lunar backdrop like in classic arcade machine
The new iiRcade Gold Edition, the latest addition to iiRcade's lineup of high-end arcade consoles, is available now for $999, with four versions to choose from: Dead Cells, Dragon's Lair, SPACE INVADERS and Black Edition with artwork Dual Dragon.
Each iiRcade comes with 11 preloaded games: Dragon's Lair, Double Dragon, Gunbird, Beach Buggy Racing, BombSquad (online multiplayer game), Snowboard Championship, Diver Boy, Dragon Master, Maniac Square, Twin Brats and Fancy World, with more games downloadable games, including free games, from the iiRcade store (https://ircade.store).
The Gold Edition of SPACE INVADERS will also include a copy of SPACE INVADERS.
All games are officially licensed and available at affordable prices, and new titles are continually added to the growing iiRcade store library. The full list of currently available games is available on the iiRcade store.
For more information and to order iiRcade, visit iiRcade.com.
About iiRcade:

iRcade is a high-end arcade console that offers an unparalleled gaming experience. Play the retro arcade games you remember and the latest modern games in amazing arcade style. With cinematic gaming experiences powered by a 19-inch high-density display, 100W of powerful stereo sound, premium 2-player arcade controllers, and a device optimized for the best arcade gaming experiences, iiRcade delivers an arcade game so immersive you'll feel like you're inside the game.
About TAÏTO:

TAITO Corporation (TAITO) is a wholly owned subsidiary of Square Enix Holdings Co., Ltd. Headquartered in Tokyo, Japan, TAITO operates core businesses such as game arcade operations, coin-operated game machine manufacturing, and mobile phone content services. A founding part of gaming history, TAITO caused a worldwide sensation with its arcade legend, SPACE INVADERS, and developed fan favorites such as PUZZLE BOBBLE (BUST-A-MOVE) and ARKANOID. Today, TAITO continues to delight game lovers of all generations by bringing both classic titles and new family-oriented titles to the latest gaming platforms. TAITO offers a wide range of entertainment experiences with the aim of providing consumers with new surprises and new discoveries.
More information about TAITO can be found on the Internet at https://www.taito.co.jp/en
Share the article on social networks or by e-mail: