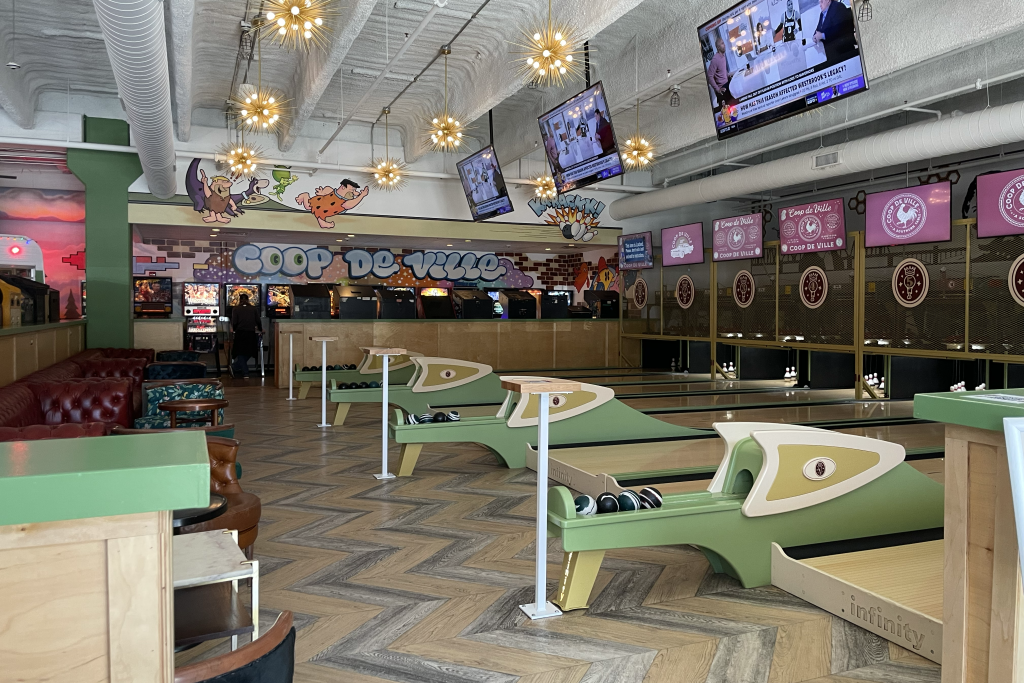 Four places in Pittsburgh where you can play like in the 90s
Every often the old becomes new again – the resurgence of vinyl records, the popularity of retro colors and styles and, of course, the continued affection for the arcade games of yesteryear, even in a gaming age dominated by virtual reality and 4K graphics.
There's something special and remarkably charming about the good old days of simple mechanics and 8-bit characters, and there's something equally great about a place that lets you enjoy a few throwbacks with lots of fun. other people who like it too. It all comes back to the basics of what gaming is – having fun.
Marking an era of revival for the once bygone arcade, there are a few places in the city – some old, some brand new – that offer modern twists on timeless classics. Whether you're an amateur pinball or Pac-Man enthusiast — or just looking for something different to do while COVID cases are down — Pittsburgh has you covered.
city ​​shot
Barcade meets the chicken. If that sounds like something you'd like, Coop de Ville is the place for you.
At the end of 2020, Richard DeShantz opened Coop de Ville in the Strip District. His restaurant group also operates Gi-Jin, Täko, Downtown Meat and Potatoes and several other restaurants in the city.
Coop de Ville is not a one-trick pony; there's a La Columbe cafe-bar near the entrance, which serves traditional lattes and espresso drinks as well as alcohol-infused coffee drinks, snacks, and pastries.
A little further inside is a large liquor bar with raised seating and a few TV screens, a tiki bar trailer, an arcade with classic cabinet games, pinball machines, pool tables, and a eight-lane bowling alley. Extensive social and seating areas are dotted around, and there's a Champagne vending machine near the bowling space.
In the arcade, you can try your hand at old favorites like Super Mario Brothers, Elevator Action, Pac-Man and Mr. Do, or play pool or foosball with your friends. There are a few machines that can convert your dollars into chips to play the games. Most machines cost 2-4 tokens, but it can cost up to 8 for larger multiplayer endeavors like foosball.
Street and garage parking is available but sometimes tight. You can try one of Pittsburgh's many alternative transportation options such as the bus, Pogoh e-bikes, Spin scooters, or Scoobi mopeds.
Overall, Coop de Ville is a refreshingly retro take on the classic arcade, staying true to the experience while adding its own flair. It blends all the best elements of a fast-paced, casual Southern restaurant, bar, and entertainment space into one, and it sets a precedent for what other barcades should strive to be.
Strip neighborhood: 2305 Smallman St., 15222, 412/991-2667. coopdevillepgh.com
Ace Breakaway and Play
This hidden gem, nestled between the towering skyscrapers of Smithfield Street Downtown, offers more of a traditional arcade experience. It's a hole-in-the-wall type place that has Pac-Man, pinball, skee-ball (or as it's called, ice cream scoop) and other classics galore, but few bells and whistles that define some of the city's newest spots.
Don't expect craft beer or a Southern-style meal, or any of the big, inflated prizes you might win at Dave & Busters. But unlike some other arcade or barcade venues, most of Ace's machines give out tickets that can be redeemed at the front desk for the kind of small prizes you might remember from your childhood – bouncing balls, finger traps, Slinkys, sticky hands and paratroopers among them.
Most games at Ace only cost a quarter or two to play; they are cheaper than those on other sites. There are machines that will convert your $1 or $5 bills into quarters.
Parking is tight and expensive downtown; Instead, consider hopping on a bus or using a Pogoh bike or Spin scooter to get there.
It's not a one-stop-shop, but it's a great place to hang out with or without the kids, and most importantly, it doesn't pretend to be anything it isn't. It's just a simple arcade with no schtick or gimmick, and in a way that's what makes it unique.
But if you're already downtown for a show or festival, or looking for a place to spend your lunch break reminiscing about the good old days of retro gaming – and maybe taking home a little gem – this is the place for you.
Opening hours: Monday to Saturday from 10 a.m. to 8 p.m.; close on Sunday
Downtown: 417 Smithfield Street, 15222, 412/434-0202.
Shorty's Pins x Pints
North Shore's newest "retro-entertainment" joint offers a place to kick back and relax with a cocktail and enjoy a selection of games, all in a chic yet friendly atmosphere. It neatly synthesizes all the best parts of a bar – including bar food – and a gaming cafe, with eight bowling lanes, 10 pinball machines, two foosball tables, three shuffleboard tables, five vintage arcade selections and two pétanque courts.
The inclusion of shuffleboard and bocce sets it apart from other barcades in the area, including the Strip District's Coup de Ville. Likewise, its expansive outdoor space along the Allegheny River offers cozy campfires and plenty of cornhole games.
With over 30 rotating drafts and a selection of always-on mainstays, this is hop bud heaven. Shorty's also offers wine and mixed drinks, as well as mocktails like hazelnut horchata and Red Ribbon sodas.
It may offer some of the best old-school entertainment, but the space itself is new; it opened in February in the space once occupied by the Tilted Kilt – between PNC Park and Heinz Field. It joins a growing list of businesses that have opened their doors on the North Shore in recent years, not only to capitalize on game day action, but also to provide pre-concert fun, for cyclists on the waterfront trail and more.
A second location is already under construction. Shorty's Tap x Taco is set to come to the Waterfront in West Homestead this summer in the former Bar Louie space. (Ironically, both locations are also opposite Burgatorys.)
If you are planning a trip, leave the money at home. Shorty's only accepts cards.
North Shore: 353 North Shore Drive, 15212, 412/904-4450. shortysx.com/pins-x-pints/north-shore
Victory Point
The South Side may be known for its drinking establishments and late-night shenanigans, but this gem offers a rare alternative in the neighborhood for people who aren't looking for a bar or club. Nestled between Jack's Bar and Trap Yoga Studio on East Carson Street, the place was one of the city's first gaming cafes, marking what was soon to become a retro renaissance for those looking to relive the joys of an era. gone – or even experiencing it for the first time.
Victory Pointe features retro games, including a Doctor Who-themed pinball machine, which was a personal favorite. If you manage to beat one of the high scores on a pinball machine, which may indeed be easier said than done, you can win a hand-spun milkshake – another feature of this arcade.
When you enter you will see a selection of retro games and a milkshake and espresso bar. Victory Pointe uses Betsy's ice cream, which is made in Mount Lebanon. Its sundaes and splits are made by hand and its waffle bowls are made to order. The milkshakes, however, are certainly the hallmark of the store, with a vanilla ice cream base created specifically for the shakes and premium additions including Ghirardelli chocolate, freshly brewed espresso, ginger syrup made home and more.
Its menu features names gamers might recognize: the tropical-flavored milkshake is called Yoshi's Island, and a Captain Picard milkshake includes Earl Gray tea, which fans may remember as the captain's favorite "Star Trek" drink. ".
On the second floor, visitors can pay a small fee to access nearly every game console ever made. Whether you're looking to relive your childhood with 8-bit fun on the Nintendo Entertainment System or want to play one of the newest titles on Playstation or Xbox, chances are it's waiting for you. 'stage.
This arcade's selection ranges from ultra-old-school to all-new, staying true to its claim of having a little something for everyone. His schedule can be a bit busy, as he also offers private rentals that close the place to the public. Discover his practice Google Calendar to make sure it's open before you travel.
There are paid parking lots on East Carson Street or back alley parking – always tight on the south side. It is along bus lines 51 and 48 and close to a few bike paths.
South side: 1113 E. Carson St., 15203, 412/251-5150. victorypointe.com