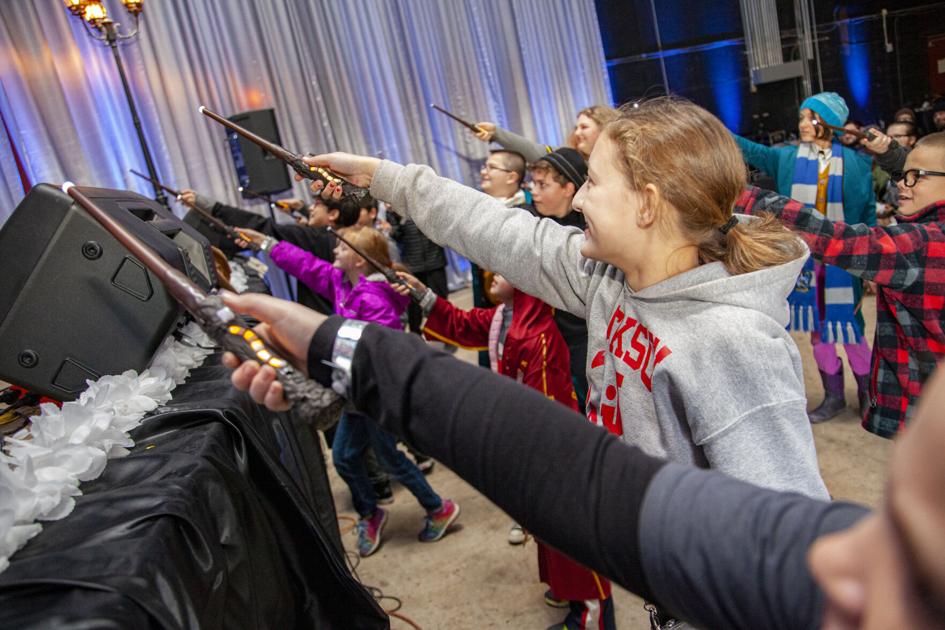 "Festival of All": the magic of Harry Potter returns to Ironton | New
Wizardfest is set to return on the 13th and 14th of this month, and fans couldn't be happier. The annual event, themed around the world of Harry Potter books and films, transforms downtown Ironton into an interactive world of magic and wonder where patrons can step through the door and step into the " alternate reality "from JK Rowling's iconic creation.
Sip a butter beer, attend wizarding lessons, take advantage of deals from local food vendors, or just stroll through Ironton and browse the many vendors lining the streets in old-fashioned bazaar style. There is something for muggles to enjoy at the festival that is built by the fans and for the fans.
Rick Jansen, one of the festival's organizers, said he has seen similar events succeed in other areas in his 20 years of experience helping organize or just being a part of other public gatherings , and thought an event at Ironton would be wonderful. for the community.
"I just thought it would be a great opportunity for the tri-state community," Jansen said. "And then I contacted Brad Bear, and the rest is history."
Jansen, who has said he has become more of a fan himself as the mechanics of the festival come together, said the Harry Potter story is a wonderful, immersive world filled with not only entertainment, but also life lessons.
"Stories teach you how to treat people, and lessons about inclusion are a big part of it," he said. "There are just a lot of interesting aspects to the Harry Potter story."
"It was Rick's idea, and he trained me in it," Bear, another organizer, said with a laugh. "He knew I was a huge Harry Potter fan, and then we brought in other fans and friends to put it all together."
Bear said this led to the start of what they call the "Magic Eights," the core of organizers working tirelessly behind the scenes.
"Everyone thinks it's 'my' festival because I'm the one they're talking to. But there are a lot of people behind the scenes, and an army of volunteers, who are making this happen. In a very real way, it's everyone's festival, "Bear said.
Bear said that many facets of this year's festival will be similar to the last festival held in 2019, bringing back all the things festival fans enjoyed.
"Similar, but not exactly the same," Bear said. "It's about looking at what worked and then improving it. We want to continuously improve ourselves to give fans the best possible experience. From the start, we wanted to create a place where people could get together, have fun and meet new people through the common cause of fandom in the Harry Potter world. This common cause is the ultimate icebreaker and encourages making new friends.
One of the improvements to this year's festival is improved seating, which can be problematic at conventions in general, Bear said.
"We wanted to create more spaces where people can just relax, so we'll have areas both outside and inside where people can sit and do that. They can sit in their own group, join new groups, meet people and just hang out, "he said.
Bear has stated that the Ro-Na Theater area where the Wizard's Pub is located will have expanded access both upstairs and downstairs for this reason. The upstairs will be themed in the Griffyndor common room, and the downstairs will be Slytherin themed, playing two of the most recognizable "houses" of the Hogwarts school of magic.
"You can get your Butter Brew and go to those areas, and we'll have table games like Wizard's Chess, Harry Potter Uno and stuff like that," Bear said.
A new offering this year, Bear said, will be free trivia games.
Each winner of the round receives Harry Potter-themed prizes, including "House" woven throws, sets of feathers and inks, and special editions of Mina Lima books. All ties are resolved with a wand duel – which in itself should prove to be entertaining.
Festival guests will also be able to enjoy this year's popular performances in the Ro-Na Auditorium every hour. Discovery Entertainment will bring back their snakes and 'creepy villains', The Order of Improvisation along with actor Harry Potter's guests will return this year, there will be a Q&A with Jim Tavare (Tom the Innkeeper) , and the sorcerer's school be in the iconic theater. Meetings and photo ops are available with Tavare, James Payton and another guest to be announced.
Festival goers will also be able to enjoy the incredible Lego exhibit from OKILUG (Ohio, Kentucky, Indiana LEGO Users Group) which will bring its huge LEGO exhibits again this year.
Iconic cosplay personality Mary Stephens will be back at Wizardfest this year, with plans for something special and interactive. The Briggs Library of Ironton will be offering crafts again this year. Ironton in Bloom will operate his popular greenhouse, with potted paint and classes on how to potty and care for plants. Terra Fate Exotics, from Huntington, will also talk about exotic plants and how to take care of them. And the Hoggstowne Wizarding School will provide visiting professors for the Wizarding School.
Bear and Jansen both said the festival was based on love for the Harry Potter world, but there is something everyone can appreciate even if they haven't yet experienced the stories of the young wizard and his friends.
"We want everyone to go out and have fun," Bear said. "Meet old friends, meet new friends and bring these groups together while having a wonderful weekend."
Tickets for Wizardfest at Ironton are available at irontonwizardfest.com, or can be purchased at the door. Multi-day and 1-day passes are available.