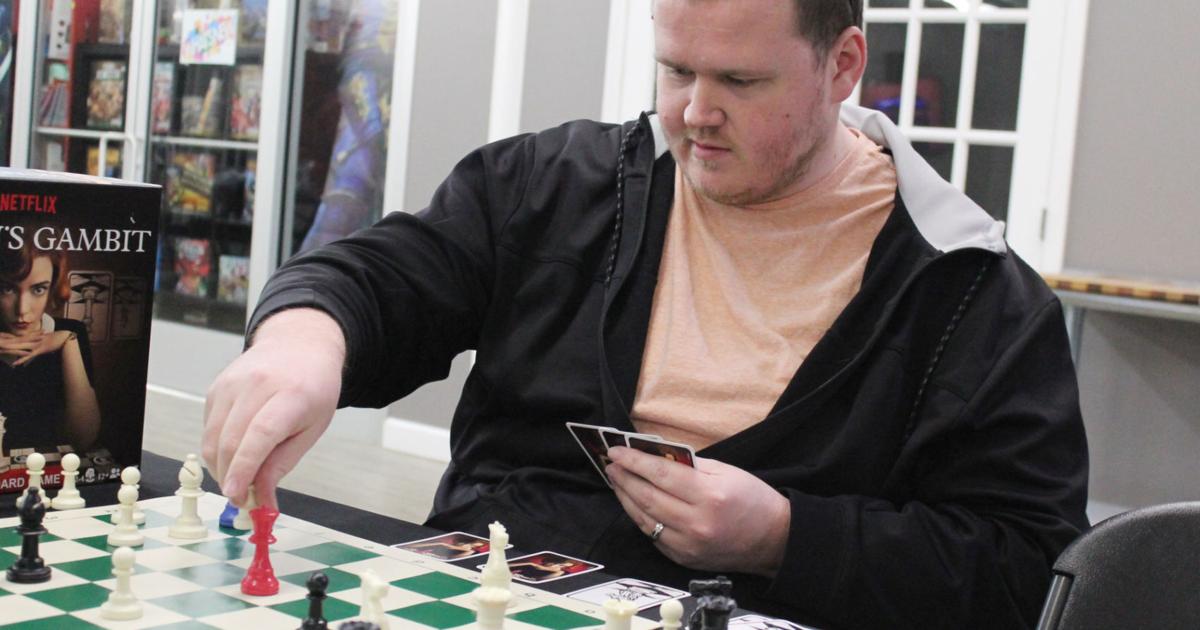 chess club meets every week in Loudon | News
The Loudon County Chess Club offers the opportunity for fans of this game to come together for a friendly competition.
The club, run by Danny and Christina Mullinax, meets Mondays from 5:30 p.m. to 6:30 p.m. at The Shop on Wharf in downtown Loudon.
"We sometimes stayed later depending on the interest of the games," Danny said. "A lot of what we play is just fast-paced games that come and go, but if there's a long game going on we're not going to kick you out."
The married couple got the idea for the club after hearing about The Shop, which has multiple stores in one building, including a game store. Driven by a passion for chess, they saw that the building had "a great open space" and immediately thought of a club when they noticed tables, Danny said.
Christina coached the Lenoir City High School Chess Club for eight years.
"We want to try to have just a place where people can play," Danny said. "Whether it's someone who has just learned to play or someone who knows how to play chess and is looking for competition. Of course, we do a lot with Lenoir City high school with their coaching, but a lot of people don't have that kind of structure. We had people here, home-school groups came and brought a few kids. We had dad-son combos and where the dad was playing and how the son started playing.
Attendance has varied since the meetings began in May. No less than 15 people showed up to play.
The emphasis remains on just having fun playing chess with others.
"We're right here and as long as we have people coming in to play and they come away with a smile on their face, it's a success," said Danny. "We're not here to make money or anything like that. Finally, it would be nice to have something like Nashville has the Nashville Chess Center and Memphis has the Memphis Chess Center. We'd love to do something like that in East Tennessee in Knoxville, but that's the pipe dream on the horizon.
"Last year with 'Queen's Gambit' they just released a 'board game' for 'Queen's Gambit', which isn't just about chess, it's actually pretty fun," he added. . "But those kind of people talked about chess and got excited about chess, so we thought we were going to try to develop that a bit and try to get people to play."
Christina and Danny met in high school at a chess club.
"It's strategy and outsmarting your opponents," Danny said. "It has long been known as the thinking man's game. … Some people see it as a shift from checkers to chess and stuff like that, but it's just a complicated game. It is easy to learn to play the game, but it is difficult to master. I think that's what attracts more people, yes you can play, but how do you play those more advanced levels? How do you go from moving parts to planning a move or two ahead of time, planning five or 10 moves ahead and things like that.
"I think there are a lot of aspects to it," Christina added. "It's kind of the right thing. … We can have young children, we can have adults, this is one of the few competitions where children and adults can play and it can be a level playing field.
Tom Blue, owner of The Shop, said his location is a good fit for what the club wants to do.
"It's more of a community center type arrangement where people can hang out and hang out, relax, play games, read books, comics, do puzzles, all for free," Blue said. "… It's play, and it's social. I think it's important for kids and adults to exercise their minds and be strategic and just learn to solve problems creatively.