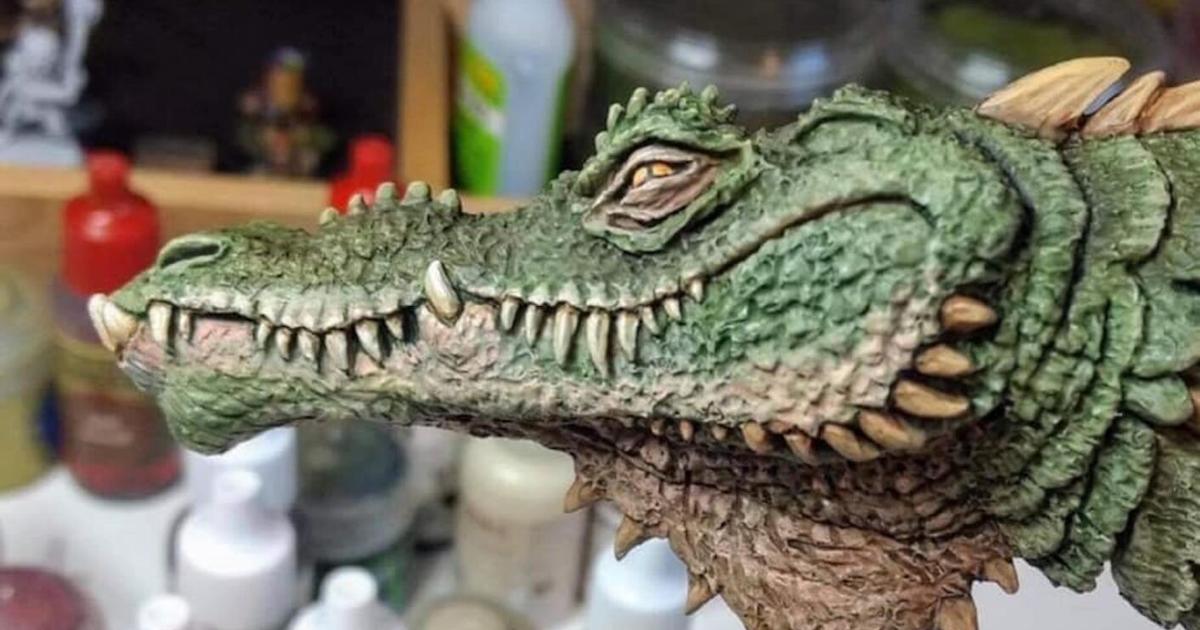 Artist Alex Bates Turns Creatures In His Imagination Into Reality | Become Alaskan
"My stuff has been described as a 'Bronze Age Mediterranean assortment with dinosaurs', and I really like that," said Alex Bates, describing the miniatures he designs for role-playing games (RPGs). . "They're fun to paint, they're fun to collect. They look cool on your table.
Bates operates his Forge of Ice company from his home in Fairbanks, where he lets his imagination fuse historical imagery with classic pulp fiction and the endless possibilities offered by RPGs to create creatures that can be inserted into the games he takes. has written, as well as very popular like Dungeons & Dragons.
"I got into tabletop games when I was very little," Bates said of his lifelong enjoyment of RPGs. "I have always been fascinated by the ability to create and manage worlds. "
Bates was born in Minnesota and moved with his family to Alaska at a young age. When he was about 6 years old, his parents bought him a Dungeons & Dragons set. "Growing up as a kid here in Alaska before the internet, a lot of those things were things you could do at home in the winter. When it's twenty below and I don't want to go out. I can draw monsters. I can paint models.
Bates was also an early and avid reader, particularly drawn to the popular adventure stories that had delighted a previous generation of children. "I like old pasta," he said. "Doc Savage, Tarzan, the Shadow. I'm particularly fond of the Lost World as a trope. The Lost World of Arthur Conan Doyle. Or King King.
These stories were written at a time when large animals like gorillas were still being discovered and the world still had unanswered questions.
A time when one could assume that dinosaurs still existed somewhere, in an unexplored valley or on a remote island. This notion was catnip to pulp fiction writers, and it guides Bates' vision.
"Old science fiction, they didn't know what was possible," Bates explained. While science fiction writers today are inclined to let the knowledge gained from science inform their fiction, the pioneers of the genre were limited only by their imaginations. This is the approach Bates takes with the games he creates and the figures he designs.
While medieval worlds predominate among role-playing games, Bates is drawn to the Greek island of Crete, which has a rich history and was the center of Europe's first advanced civilization, the Minoans. "I love the Mediterranean Bronze Age," he said.
Bates has created his own RPG called Azor, which is "loosely based on sort of a mythological version of Crete, with Greek influences, Egyptian influences and a bit of Conan the Barbarian," he explained. "Whether it's a valley or an island or an underground cave or some other dimension is never specified."
Bates said that Crete is not widely seen in RPGs, which is why its miniatures differ from the more popular medieval ones popular with gamers.
"I take historical images of surviving frescoes, extant imagery of dolphins and octopus, monkeys, griffins, and trade them with dinosaurs."
This opens up new possibilities for players. "How would the ancient Greeks react to a thirty-foot-long reptilian predator," Bates asked. This is where RPGs fuel the creativity of gamers, he said, who can answer such questions themselves.
Prior to launching his business, which became a full-time occupation, Bates' career path saw several twists and turns. He was in the Air Force, then took art classes at the University of Alaska. He then worked as a firefighter and bar bouncer. All the while, he remained drawn to Fantasy Realms and Games.
In 2006, he attended Gen Con, the largest table games convention in North America.
It was there, looking at the miniatures on display, that he had his light bulb moment.
He remembers thinking at the time, "I have to stop wishing that people would create" the creatures he imagined. "I'm just going to make them myself."
Meeting with industry creators at the convention, Bates realized that it's people like him who make the figures popular with gamers.
"In my head, I built this idea that they all had factories and offices. But above all, these are just people who work in their homes.
Bates built his company from scratch, designing images and contracting with companies like Fenris Games in Britain and Valiant in the US for resin casting, as well as Dark Platypus Studio, based in the United States, for his metal miniatures.
From humble beginnings, he built a global business selling the figurines, though he said shipping bottlenecks and convention cancellations caused by the pandemic have been hard to get around.
In addition to designing miniatures and creating playbooks, Bates also writes fiction. He has published stories in anthologies in the word Metamorphosis Alpha and is currently working on several other projects. He's also collaborated on an ongoing comic book series with Fairbanks artist Brianna Reagan.
Bates had previously worked with Reagan and said she introduced him to the comedic idea.
"She wanted to draw a comic that she could read to her daughter," he explained. "A lot of children's comics are sort of patronizing. Or they are boring. Children love peril. Children love monsters. But you don't want there to be swearing, sex, or blood in it.
The duo created "The Clockwork Queen of Oz," which takes place in L. Frank Baum's beloved Land of Oz. "A little girl is shipwrecked. She washes ashore in a weird, steampunk version of Oz, "Bates said, describing the plot.
Two issues have been published and a third is in preparation. "It has been a wonderful experience. She is a brilliant artist.
Creating miniatures and worlds to inhabit remains Bates' primary focus, however, and he is completing a game source book titled "Eye of the Cyclops" which he plans to release in 2022.
"Immersing yourself in fiction and doing creative stuff has always been where I was headed."
Forge of Ice is available online at forgeofice.com and on Facebook at bit.ly/3sq7mBF. Copies of "The Clockwork Queen of Oz" are available at the Comic Book Store.